Rotterdam is divided in 14 districts which are further subdivided into neighbourhoods. Below is a selection of the most interesting areas and neighbourhoods in Rotterdam.
The Rotterdam Centre area consists of six neighbourhoods. One of them is the so called City Triangle (Stadsdriehoek), for a long time the original centre of Rotterdam. In the City Centre you'll find most of the famous places of Rotterdam, like the main street Coolsingel, the City Hall, the shopping icon Koopgoot, the very popular Markthal and the striking Rotterdam Central Station.
The Maritime Quarter (Scheepvaartkwartier) is a worthwhile neighbourhood on the banks of the river Nieuwe Maas. Here you can expect a maritime atmosphere, historic buildings, quality restaurants and major attractions such as Wereldmuseum, Het Park and Euromast. Don't forget to see the famous Cube Houses and the neighbourhood Oude Haven, the original harbour of Rotterdam.
Kop van Zuid / Wilhelminapier
The Wilhelminapier, part of Kop van Zuid and Feijenoord, is located opposite the centre on the south bank of the river Nieuwe Maas. This peninsula is a great place for architecture geeks with a great offer of special skyscrapers including De Rotterdam building of architect Rem Koolhaas. Other major attractions here are the Erasmus Bridge, Hotel New York, the Fotomuseum (Photography Museum) and the Luxor Theater.
Katendrecht is a peninsula on the south bank of Rotterdam situated between the Rijnhaven and the Maashaven, that can be easily reached from Wilhelminapier. In the past this district was famous by sailors for its nightlife, brothels and the first Chinatown in Europe. In recent years this area has been redeveloped and today it counts several attractions including the Deliplein and the steamship ss Rotterdam and not to forget the culinary hotspot Fenixloodsen. A positive effect was the construction of the Rijnhaven bridge that connects Wilhelminapier with Katendrecht.
Delfshaven is a wonderful neighbourhood to stroll along historic buildings, art galleries and pubs to drink a local Pilgrim Beer. This district (until 1886 an independent municipality and therefore part of Delft) has a rich history dating back to 1389. Delfshaven also enjoys international renown for the Pilgrim Fathers Church that attracts many Americans.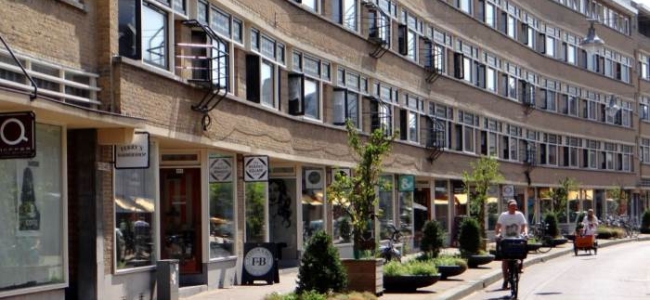 The area Oude Noorden is a historic and emerging neighborhood in the northern part of Rotterdam. Interesting spots of this hidden gem are the Noordsingel (one of the oldest 'singels' of Rotterdam), the Noordplein, the multicultural Zwart Jansstraat and especially the upcoming streets Zwaanshals and Zaagmolenkade that contain several great restaurants, boutiques and a very diverse and original offer of special shops.
Kralingen is a green and attractive neighbourhood, traditionally one of the richer areas of Rotterdam. Well-known places are the recreation area Kralingse Bos, the student pubs around Oostplein and the Erasmus University.