Here you find a selection of the best, most original and nicest shops in Rotterdam.
Groos
Achterklooster 13
The ultimate Rotterdam shop where you can expect local products including design, art and delicacies. Probably your best bet for a original Rotterdam souvenir.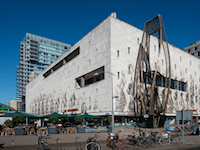 Bijenkorf
Coolsingel 105 
One of the largest departments stores in the Netherlands you won't want to miss visiting Rotterdam when it comes to shopping.
Marlies Dekkers
Witte de Withstraat 2
This special shop from the popular lingerie-fashion designer Marlies Dekkers has its seat in the trendy Witte de Withstraat.
Donner
Coolsingel 119
Book store Donner is a real institute in Rotterdam and book aficionados should absolutely visit Holland's largest book store, based on the main street Coolsingel.
Keet
Oppert 3 
A special concept, that combines a pop-up store with coffee and tea.
H&M
Beursplein 38
With 4500 metres square the largest H&M in Europe.
Woei
Hoogstraat 65a
Rotterdam's sneaker paradise. Also own sneaker designs.
Skatestore Rotterdam
Westblaak 28 
Largest skate assortment in the Benelux, besides the big skatepark at the Westblaak .
Hema
Beursplein 2
A department store in Dutch style. The juicy smoked sausage is part of the deal.
Forever 21
Beurstraverse 21
Based in the 'Koopgoot', 1800 metres square.
Groene Passage
Mariniersweg 1 – 33
This biological shopping center accommodates several green shops. The Groene Passage also offers green breakfast, lunch and dinner.
Kookpunt
Noordplein 29
With 4000 meters square, the best in Rotterdam and the Netherlands for fans of cooking! Based in the recommendable neighbourhood Oude Noorden.
Amac Flagship Store
Lijnbaan 79
The largest Apple Premium Reseller in the Netherlands.
Messenslijperij Hillknives
Insulindestraat 92
Hillknives receives customers from all over the world including marines and chefs.
Clone Records
Raampoortstraat 12
You will love this cool record shop in the Hofbogen, specialized in electronic music.