Discovering a personal coffee preference  in Rotterdam requires legwork and planning as this city has so much for coffee lovers to choose from. Several coffee bars in the city centre and boroughs are regularly tapped as 'best coffee bar' in the Netherlands. Reason enough to list as many as possible, those well-known and those up and coming jewels. Included is a selection of coffee-to-go chains.
Best coffee bars in Rotterdam
Rotterdam Centre
Hopper Coffee
Schiedamse Vest 146 
Filter coffee is the speciality of the house. Hosting its own bakery you can also expect fine sandwiches in Hopper Coffee.
Urban 9
Botersloot 44-a
Cosy and always busy. Situated close to the central library and the Markthal.
The Polka Dot Rabbit
Overblaak 96
Nice, small coffee bar situated in the Cube House complex opposite the Stayokay hostel.
NOC NOC
Botersloot 28a
NOC NOC is serving speciality coffee, espresso as well as filtered.  You can also expect alternative drinks and homemade sandwiches and cookies.
De IJssalon Meent
Meent 69-a
An ice-cream parlour that also deals well with coffee. Great espresso, cappucc and coffee.
Keet
Oppert 21
Coffee and conceptstore in one.
Heilige Boontjes
Eendrachtsplein 3
Based in a former police office, Heilige Boontje is reintegrating young people. But not less important, the coffee and food is good.
Rotterdam North
Man met Bril
Vijverhofstraat 70
Quirky coffee bar based under a former railway. Great and tough coffee. In 2015 chosen best coffee bar of the Netherlands.
Hopper Coffee
Zwaanshals 474
Second branch of Hopper based in the cosy Zwaanshals in the charming neighbourhood Oude Noorden.
Booon
Proveniersstraat 31
Coffee bar with Italian touch. Espresso, cappuccino, sweet things and sandwiches, together with a charming terrace surrounded by nice restaurants. 5 minutes from back central station.
Lokaal
Raampoortstraat 34b
Based under the former station Hofplein at the Hofbogen. Besides coffee Lokaal serves breakfast and lunch. Great terrace.
Ookami
Burgemeester Meineszplein 94
Ookami serves two types of coffee: Colombian and Indonesian.
Coffeelicious
Nieuwe Binnenweg 174
Besides good coffee you can also find here high tea, breakfast and lunch.
Urban Espresso Bar 
Overblaak 96
One of the first espresso bars in Rotterdam that moved to exciting Rotterdam West. Fine espressos and cappuccinos, and Rotterdam Giraffe coffee.
    Rotterdam South
Koffiehandel Pretoria
Bloemfonteinstraat 78c
Ookami serves two types of coffee: Colombian and Indonesian.
Kate
Sumatraweg 13b
Coffee, breakfast and lunch in a food-retail surrounding. On the Deliplein in the city's Katendrecht district.
RDM Kantine 
Heijplaat 3
It's quite a trip to RDM Kantine on isolated Heijplaat, but you will enjoy the crossing. Coffee, lunch and drinks in this shed, once a room for metal workers.
  Best coffee chains with coffee to-go
Coffee Company
Meent 12-14 / Eendrachtsplein 2
Fast growing coffee chain brewing great coffee, all sorts to standard or personal wish. Pleasant atmosphere for working inside or lounging with the newspapers inside or out.
Starbucks
Centraal Station
Since 2013 based in the Rotterdam Central Station and since October 2019 in the Rotterdam Central Library at the Binnenrotte.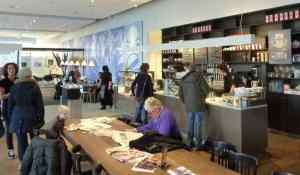 Douwe Egberts
Binnenrotte 200
Dutch traditional coffee brewer founded 1753. DE is the go for coffee in most Dutch households and supers. Very good 'cup of solace' as the Dutch say: bakje troost.
Bagel & Beans
Schouwburgplein 80
Coffee chain offering  good coffee in all sizes along with fresh produce, juices and a wide selection of bagels. Featuring the famous Dutch Weed Burger.