Rotterdam has several grand cafes spread out across the city. Inspiring places for a breakfast or lunch, to read a newspaper, have drinks or as workplace.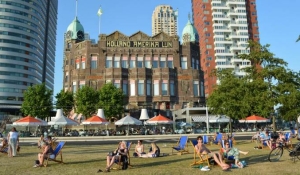 Hotel New York
Koninginnenhoofd 1
Most famous grand cafe in the Netherlands. Every day busy. The royal terrace offers great views.
Dudok
Meent 88
Another impressive grand cafe in the Meent in the heart in Rotterdam. Famous for its hearty apple pie, with or without whipped cream. Charming reading corner and ditto terrace.
Westerpalviljoen
Nieuwe Binnenweg 136
A pure Rotterdam grand cafe at the Nieuwe Binnenweg. On a large summer evening the spacious terrace is a great place to enjoy the sun for a long time.
Nieuw Rotterdams Café (NRC)
Witte de Withstraat 63
Charming and live grand cafe in the Witte de Withstraat that attracts a younger crowd. Good for a lunch, to drink or to dine. Once there was a newspaper over here and for that reason the initials.
De Machinist
Willem Buytewechstraat 45
Grand cafe with a industrial ambiance. All kind of rooms that accommodates working rooms amongst others. Close to the Euromast and Maastunnel.
Loos
Westplein 51
Grand cafe with class established in the monumental Atlantic Huis across from the pittoresk Veerhaven.