Below you will find a list of the best beer cafes, breweries and beer shops in Rotterdam.
Beer cafes, breweries and beer shops in Rotterdam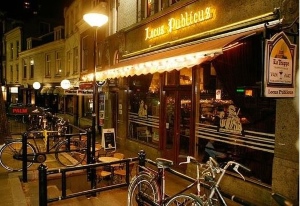 Locus Publicus
Oostzeedijk 364
Beer cafe with more than 200 special beers and 15 sorts of beer on the tap. Also organizing beer tastings.
Belgium Beer Cafe Boudewijn
Nieuwe Binnenweg 53
Since 2016 Belgium ambiance with a wide range of Belgium beers. More than 100 sors of beers and 8 sorts on the tap. Besides beer also Belgium food.
Proeflokaal Reijngoud
Schiedamse Vest 148
This beer cafe on the corner of the Witte de Withstraat and the Schiedamse vest is set up spacious and with a large terrace. Reijngoud offers 100 types of beers and 16 types of beer from the tap.
Bokaal
Nieuwemarkt 11
A lively cafe with a large terrace on the corner of the Pannekoekstraat. Bokaal has 80 types of beer and 11 on the tap including beers from Rotterdamse breweries.
Biergarten
Schiestraat 18
Trendy outdoor beer garden with wooden benches.
De Pelgrim
Brewerie De Pelgrim startes in 1996 with making own beers in the middle of historical Delfshaven. Try Rotterdams beers like Stoombier or Mayflower inside or outside on the terrace. There are also tours.
De Kaapse Brouwers
Since 2014 active in the Fenix Food Factory in Katendrecht. This brewery brought the craft beer to Rotterdam. In de brewery there is a beer shops and you can expect tastings.
Brouwerij Noordt
Brouwerij Noordt is making 15 types of excellent beer. The terrace is great to try the beers like IPAL, Noordsingel, Saison, Bok or Tank 5.
World of Drinks
Grote Markt 190
Established in the Markthal. Here you can expect 500 types of special beers sorted by country and sort. Down there is a liquor store and above the cafe, unique in Rotterdam.
Plan B
's Gravendijkwal 135
Deze propvolle bierwinkel heeft een zeer breed assortiment. Meer dan 1.400 verschillende bieren met de focus op Britse- en Amerikaanse bieren.
Mad About Malt
Voorburgstraat 109
Since 2016 in the Hofbogen. All the beers a done according to traditional methods with a focus on beer from Spain, Canada, New Sealand and America.