Check out several bike rental possibilities in Rotterdam including GoBike, the OV-bike, private companies and bike tours for groups.
Qualitative bikes with acceleration, Bromptons, E-bikes and bikes for childeren. They are situated in the Groothandelsgebouw, close to the central station. Also repairs.
Prices
Rent per day for a city bike with 3 accelerations € 12,50 (security €50,-)
Opening hours
Monday till Friday from 07:30-19:30
Saturday and Sunday from 9:00-19:30
Location and route
Zwaan Bikes
Weena 703
You can rent a bike at Centrum Bikes for half a day.
Prices
Rent per 4 hours for a city bike  € 6,00
Opening hours
Monday from 10:00-18:00
Tuesday till Friday from 09:00-18:00
Saturday from 10:00-18:00
Sunday from 12:00-17:00
Location and route
Centrum Bikes
Schiedamsedijk 54
Combine bike rental with a bike tour in Rotterdam
A bike tour with a local guide is perfect to discover the wider Rotterdam. Visit all the highlights of Rotterdam or choose for a special architecture bike tour for visiting all the acclaimed international architecture of Rotterdam.
More about a bike tour in Rotterdam
Rent a oBike in Rotterdam
The modern grey yellow bikes of oBike are available in Rotterdam everywhere.
To rent  an oBike you need to install an App and register yourself.  The bikes can be hired everywhere and put back everywhere. The costs are € 0,50 per quarter.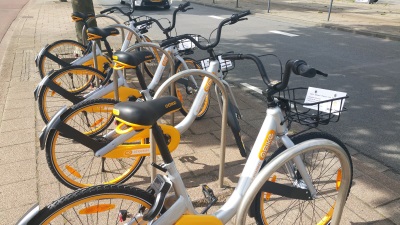 Rent a Gobike in Rotterdam
The Gobike is an electronic bike with navigation.
For a Gobike you enter into contract for € 15.  For a ride of one hour you pay about € 2.
OV-bike
The yellow-blue OV-bikes can be found at the stations Central,  Blaak, Alexander, Zuidplein, Capelsebrug, Kralingse Zoom, Wilhelminaplein, Slinge and Macroniplein.
OV-bike rental and price 
You can rent a  OV-bike with a OV-bikesubscription that can be linked to your personal  OV-chipcard. There are no costs for the OV-chipcardsubscription.  You pay 3,35 euro for renting an OV-bike. The OV-bikes can be rented at several locations. If you deliver the bike at another locations you pay an additional charge of 10 euro.