Rotterdam has several options to discover the city. Below you find all the essential information about cycling, walking and the large urban transport network of Rotterdam.
Walking in Rotterdam
Walking is an ideal way to discover the centre of Rotterdam or some specific neighbourhood, whether or not combined with public transport.
Tram in Rotterdam
Trams will bring you to all corners of Rotterdam and is great for shorts distances. The regular rate is € 0,89 per ride. It's relevant to know that you need an 'OV-chipkaart' to use the tram.
Metro in Rotterdam
The Rotterdam metro (subway) is particularly util for trips to the suburbs, or even further to nearby cities like The Hague. Importants stops in the centre are 'Centraal', 'Stadhuis', 'Beurs' and Blaak (stop for the Markthal). You need an 'Ov-chipkaart' for using the metro.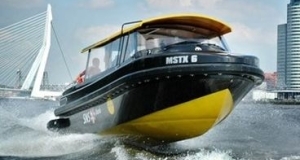 Watertaxi in Rotterdam
The watertaxi is a very nice way to travel in Rotterdam by water. Grab the water taxi (there are 50 stops) and enjoy the great views of the spectacular skyline of Rotterdam.
Waterbus in Rotterdam
The waterbus will bring you from north to south and to surrounding interesting places like Dordrecht or Kinderdijk.
Bus in Rotterdam
Rotterdam has an extensive bus network which covers also greater Rotterdam. You need an 'OV-chipkaart' to use the bus.