The best places for breakfast in Rotterdam.
Ayla
Kruisplein 153
Healthy options with a Mediterrean twist.
Lilith
Mauritsweg 217
A place where you can have breakfast all day long.
King Kong Hostel
Witte de Withstraat 74
The breakfast buffet also for people who do not stay in the hostel.
Coppi
Bergweg 316
Bikes, cafe and delicious buckwheat waffles. Opened from Wednessday till Sunday.
Bertmans
Zaagmolenkade 15
From 09:30 hours you can have a nice breakfast in Bertman in neighbourhood Oude Noorden.
Stroop
Mathernesserweg 21b
Great place, but just open from 10:00 hours. Super original treacle waffles.
Vlaams Broodhuys
Nieuwe Binnenweg 127b / Meent 8a
Specialized in leavened bread.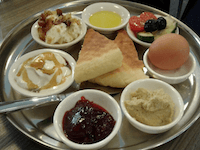 Espresso Dates
Middellandplein 21b
Coffee and dates. Open from 09:00 hours.