Nice indoor activities for children in Rotterdam on a rainy day. Check out unique experiences for the whole family in Rotterdam!
Miniworld
The largest miniworld in the Benelux. Experience polder landscapes alternated with Rotterdam and its harbour.
De Ballenbak
In playground paradise De Ballenbak you can play 7 days in the week on several climing frames. Parents don't pay entrance. Nice for childeren from 5 till 12 years.
Ontdekhoek
The Ontdekhoek is a large workshop where boys and girls from 4 till 14 years can do more than experiments.
Skateland
Indoor skateboard park and BMX-inlinepark for experienced and less experiences skaters.
Guided Tour Feyenoord Stadium
Experience the unique atmosphere of the Feyenoord Stadium and learn everything about Feyenoord.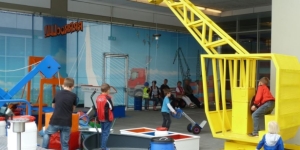 Maritiem museum
This maritime museum shows many  models of boats. Especially for children there is 'Professor Plons'. Fun for childeren from 4 till 12 years that will learn everything about the huge Rotterdam Port.
Villa Zebra
Exhibitions with visual arts for children from 3 till 12 years. The exhibitions can be visited on a interactive way. Furthermore,  workshops can be attended.
Jump XL
A spectacular trampoline park with the latest trends, a true jump mekka. For childeren from 8 years.